Hello, friends!
As your trusted resource for all things real estate, I wanted to pass along the most recent market date for San Mateo County and the Greater Bay Area. Whether you're buying or selling, we want to make sure you have the most pertinent information possible! It is all part of Meraki's mission to give you the very best in personalized service. Please reach out should you have any questions about what this information means for you!
The National Bureau of Economic Research reports that as of July 2019, we are officially in our country's longest economic expansion period. In May, the unemployment rate dropped to 3.6%, which is the lowest it has been since 1969. Despite this, the Federal Reserve (the Fed) lowered the Federal Funds Rate by a quarter point on July 31st, typically signaling that the economy needs a little push. Why?
Overall, our Gross Domestic Product (GDP) only grew by 25%, which is very slow compared to past economic expansions. Also, the Consumer Price Index (CPI), which measures inflation, is below the Fed's target of 2%. The Fed seems to be wrestling with the reality of slowing growth, an aging workforce, and low inflation across the United States. In fact, they labeled the rate decrease as a "readjustment" to get interest rate policies in-line with this new economic paradigm.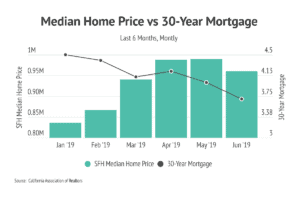 Normally, there is an inverse correlation between interest rates and home prices in that lower mortgage rates are usually a boom to the housing market. This month, however, mortgage rates had little impact on the market overall. The disconnect between mortgage rates and home prices poses a problem for the Fed's efforts to stoke economic expansion.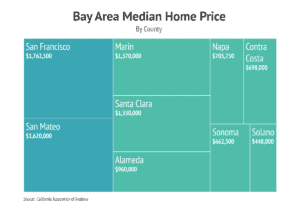 As you can see in this graphic, with data sourced from the California Association of Realtors, San Mateo County has the second highest median home sale price in the Greater Bay Area! This area is a hot place to live in right now and continues to attract people from across the globe, especially growing families and tech entrepreneurs.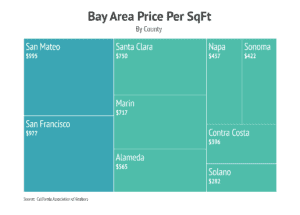 Despite having the second highest home price in the Bay Area, homes in San Mateo County actually are priced the highest per square foot.
The Greater Bay Area housing market remains one of the most dynamic in the country because it's defined not only by the country's macroeconomics factors, but also by the tech industry, the IPO market, and foreign buyers. For this reason, the county regularly sees more variance in month-to-month median prices. For more information on what this could mean for you and your real estate goals, please do not hesitate to reach out with questions. I am here to serve you!